Want to Grow Your Channel, Leads & Revenue Faster?
 Below is a detailed outline of what to expect from our comprehensive audit.
YouTube channel audits take 7-14 days to complete after our team is granted analytics access on both YouTube & Google. 
Once you reserve your audit with us, you will be prompted to set up your initial on-boarding call with Liz to go over the specific details of your business and how YouTube can best help you grow faster with video.
After we get a snapshot of your business and goals with YouTube, we then complete the 4 steps outlined below. 
Upon completion, we deliver a comprehensive YouTube Channel Audit Report for you with all opportunities to:
Increase subscribers
Increase views & watch time
Increase leads & revenue from YouTube
Optimize your overall video marketing systems
Improve your website and channel performance
Improve your website and channel SEO rankings
Decrease your video production and administrative time
Decrease your overall content confusion

Phase 1: Channel Cleanup & Opportunity Identification
We will scour your current analytics data and the content you currently have on your YouTube channel to identify both content opportunities and any glaring red flags that are preventing your organic video growth.
These opportunities and necessary cleanup items will be delivered to you in a written document with step-by-step details as to how to correct them.
You can expect to receive:
Website & SEO Audit Task List – Learn what to modify on your website and a detailed list of any technical issues we find, plus how to fix them
YouTube Channel Audit Report – This full-scale report includes a comprehensive overview of your biggest channel opportunities; areas of improvement (with task lists of how to implement them); competitor analyses and suggested video recommendations; several high-traction keyword reports based on your specific niche; 1 month of future video content recommendations (typically 4-5 videos with SEO Titles, Tags & Descriptions pre-written for you); a list of any videos you should change, alter or remove; general channel settings & optimization recommendations; thumbnail & channel branding materials; YouTube SEO opportunities based on your business. 
Phase 2: Competitor Research & Advanced Keyword Analysis
During this audit process, we will also perform a comprehensive competitor analysis to identify new opportunities for growth for you using YouTube suggested video optimization.
We will provide a sample list of videos to "piggyback" off of for a higher optimization, more views and leads.
We will also do a detailed website analysis, keyword analysis and advanced video topic research for you, pulling together the following info:
Relevant keyword lists to include in your video Titles, Tags & Descriptions so you can create SEO-friendly videos that people can actually find.
Target demographic question reports – Identify exactly what your customer is looking for help with, and how to rank for that question.
Possible content article suggestions – Know exactly which pages on your website to optimize, enhance and/or add video to for increased exposure and impact from your YouTube channel.
Phase 3: Channel Branding & Optimization
Many people are unaware that their channel branding and thumbnails matter a great deal to the YouTube algorithm.
We will provide sample channel rebrand content (if necessary) to help optimize your thumbnail design and image-based metadata.
We will also provide several systemized checklists to help ensure your channel is fully optimized for search and suggested video. 
This includes optimizing your:
Default upload settings,
Standard upload procedures,
Current and future titles, tags & descriptions,
Community settings,
End cards and title screens,
and more…
Phase 4: Delivery & Implementation
Once we have done the preliminary research and keyword analyses, we will deliver a full-scale YouTube marketing audit report for your review.
Inside this report, you'll receive our advanced content suggestions (i.e. what to add to your channel) plus all of the keyword and content information mentioned above.
Though the audit itself does not include implementation of the detailed plan, we do offer the option to roll your audit cost into our "done-for-you" content marketing service package should you choose to continue with us for the implementation process.
If you have your own in-house team, you will be able to simply deliver this detailed report to them so they can start making these necessary fixes on your channel.
Once your video marketing analysis and YouTube channel audit materials are delivered, you have one final 30-minute followup call for additional Q&A to answer any questions or challenges that come up during execution.
If you have any questions, please contact admin@vidfluencepros.com
Results From Our Clients…
221% More Subscribers in Just 30 Days
Self Publishing School increased their views, subscribers and leads across the board after implementing our audit recommendations.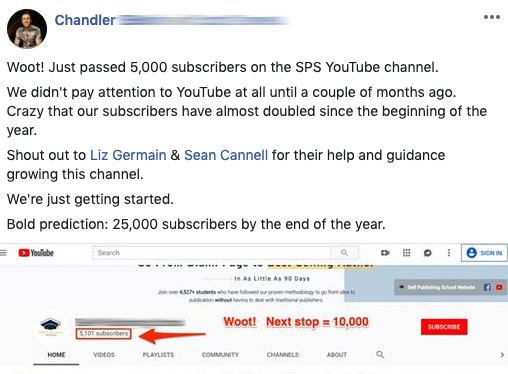 Gained 115k+ Subscribers and over $17,000 in New Revenue
By following Google Trends and our YouTube Suggested Video recommendations included in the audit, Sara and Alex James gained millions of new organic views, thousands of additional digital product sales, attracted over 115k engaged subscribers and generated over $17k in AdSense revenue.

314% Increase in Monthly AdSense Revenue
By adjusting a few video Titles, Tags and Descriptions using our signature SEO process, the Cam Adair was able to triple their monthly revenue nearly overnight.
+7,786 New Subscribers in Just 30 Days 
Our YouTube SEO strategy enabled one health blog to have a significant monthly spike in views, site traffic, leads and subscribers.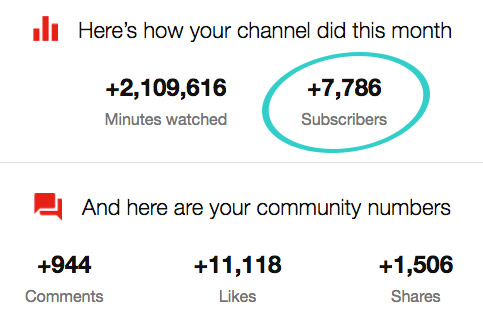 Generating 14-19+ New, Targeted, Evergreen Leads Per Day 
One of our clients in the wellness space is generating almost 2 dozen new, targeted leads per day from their new YouTube strategy. 
Ready to Grow Your YouTube Channel & Leads Faster?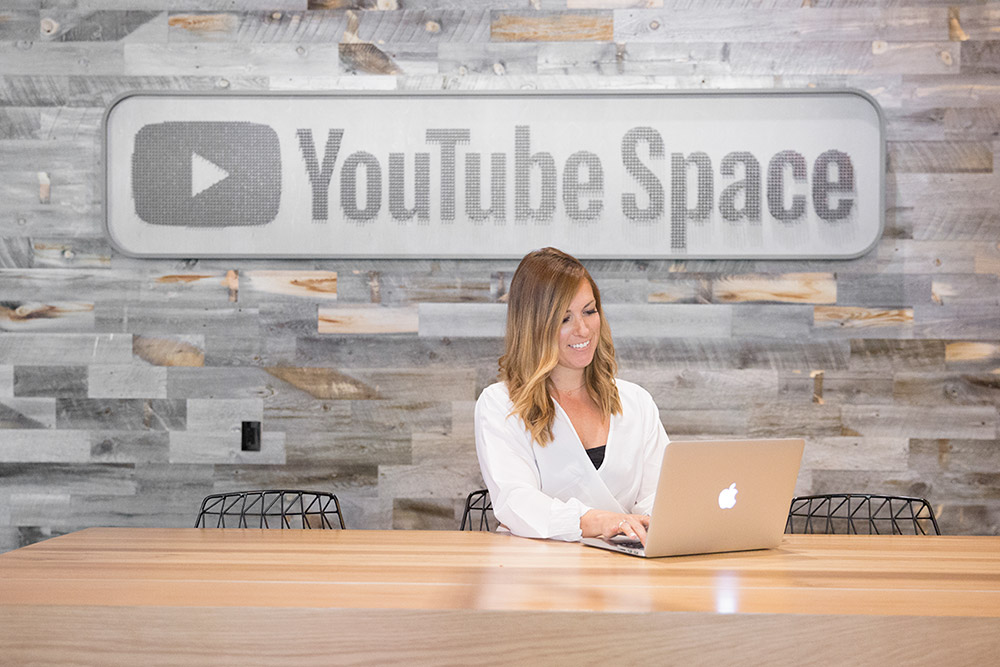 About Liz Germain
Liz
Germain
 is a leading expert in video and YouTube marketing. 
Liz
 has generated over 50+ million organic views and tens of thousands of leads for online businesses using YouTube. She helps people set up video automation systems that help increase passive income and 10x their impact online with YouTube SEO.